2018 Art Festival in Hong Kong
— March 26, 2018 by YIART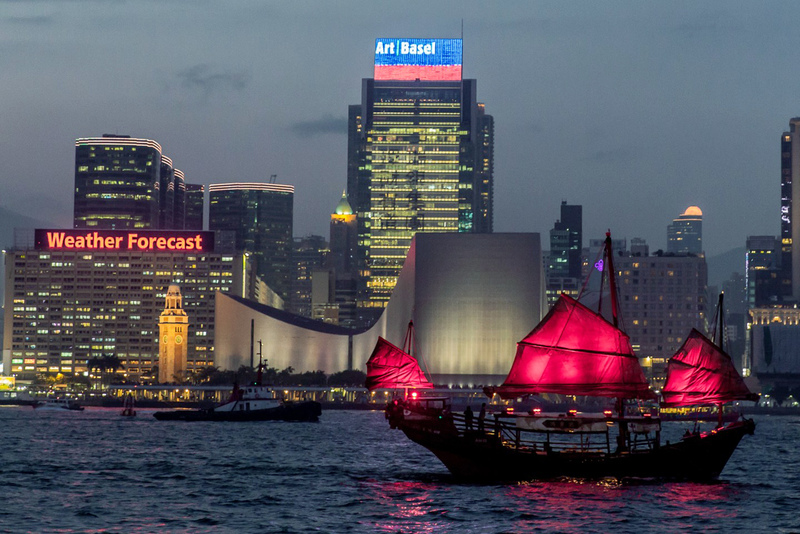 Every March is the lively month in Hong Kong. Visitors from all over the world flock to the city only to participate in the arts event. Of course, Art Basel Hong Kong has always been the highlight of the art festival in Hong Kong. At the same time, it is also carried out by Art Central Hong Kong. These two art fairs will start on 3/29-3/31 and 3/27-4/01 respectively. Also, Sotheby's spring preview and auction in Hong Kong will also be held in the same week. If you have already planned to go to Hong Kong, please do not miss these evets.
2018 Art Basel Hong Kong features 248 premier galleries from 32 countries and territories and half of the participating galleries once again have exhibition spaces in Asia and Asia-Pacific. 28 galleries will participate in the Hong Kong show for the first time and 9 galleries are from Taiwan. 195 leading international galleries will exhibit in Galleries, the main sector of the show, such as Gagosian Gallery, David Zwirner, Hauser & Wirth, Galerie Perrotin, Massimo De Carlo, De Sarthe and Pace Gallery.
Curated for the fourth consecutive year by Alexie Glass-Kantor, Encounters will present institutional-scale installations and site-specific projects, with 9 new works created specifically for this year's show. The 2018 edition, which again will be installed along the four boulevards that run through the two exhibition floors of the show, will feature work by Taiwanese artist Chou Yu-Cheng, Isabel and Alfredo Aquilizan, Toshikatsu Endo, Ryan Gander, Subodh Gupta, Iván Navarro, Ramesh Mario Nithiyendran, Shinji Ohmaki, Jorge Pardo, Erwin Wurm, Ulla von Brandenburg and Nyapanyapa Yunupingu.
In addition, when 2018 Art Basel Hong Kong is ready to start, people might consider visiting Pedder Building and H Queen's. There are numerous prominent galleries exhibiting in the end of March. Take some for example. Simon Lee Gallery will show Jim Shaw, Gagosian Gallery will show Jennifer Guidi and Lehmann Maupin will show twin brother artists OS GEMEOS.
During the same time, David Zwirner, which just opened in January this year, will exhibit Wolfgang Tillmans, Galerie Perrotin will bring works by Kaws, De Sarthe will show works by two post-war masters Manolo Millares and Antoni Tàpies, and Hauser & Wirth, which will open in March, will exhibit works by Mark Bradford.
If you're bored with only visiting indoors, it's better to go to Hong Kong's first international sculpture park, Harbour Arts Sculpture Park. While enjoying the spring, you can also get close to the sculptures. There are 19 artists' sculptures displaying in the park, including Michael Craig-Martin, Kusama Yayoi, Zhan Wang, Antony Gormley, Mark Wallinger, and Hank Willis Thomas and so on. It is a special opportunity to admire internationally renowned sculptures in the public exhibition area. After visiting the 2018 Basel Art Hong Kong, don't forget to stop by Harbour Arts Sculpture Park.

2018 Art Basel Hong Kong
Exhibition Date: March 29, 2018 - March 31, 2018
Venue: Convention & Exhibition Centre
2018 Art Central Hong Kong
Exhibition Date: March 27, 2018 - April 1, 2018
Venue: Central Harborfront
Harbour Arts Sculpture Park
Exhibition Date: From now on to April 11, 2018
Venue: Central Harborfront
Figure 1: Art Basel in Hong Kong 2017 © Art Basel
Figure 2 left: Michael Craig-Martin《Gardenfork (Magenta)》Courtesy of the artist and Harbour Arts Sculpture Park
Figure 2 right top: Mind Set Art Center, Shinji Ohmaki, The 8th Enku Grand Award Exhibition, The Museum of Fine Arts, Gifu, 2016 Courtesy of the artist and the gallery
Figure 2 right bottom: 1. De Sarthe, Antoni Tàpies, Peu i espiral, 1986. painting 100 x 81 cm. 2. De Sarthe, Manolo Millares, Homunculus, 1964. Mix media, 130 x 97 cm. Courtesy of the artist and the gallery