Taipei Garden Mall
— Feb 18, 2018 by YIART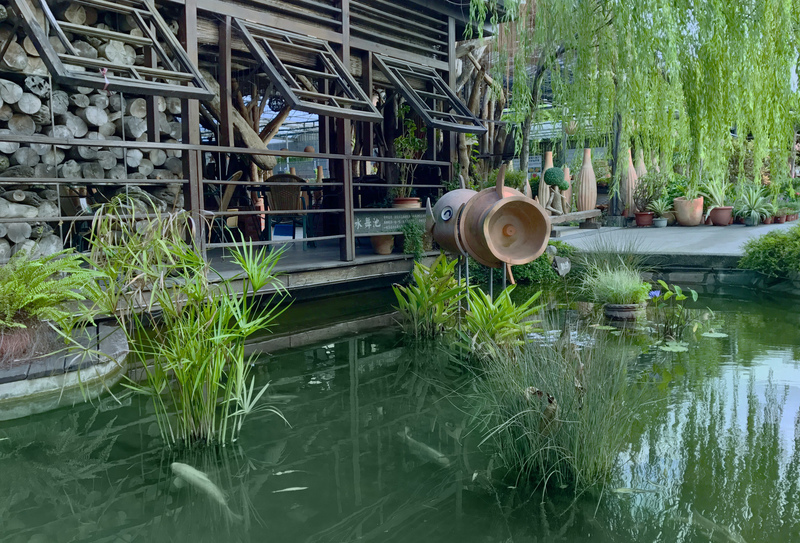 Hidden in the corner of the urban jungle of Taipei is the Taipei Floral Village, one of the largest flower markets in Taipei. The small and humble front door might mislead its visitors to think they are entering a wholesale plant market, but inside they will discover an entire new world.
Ah Ding, who was originally a businessman in the construction industry, founded Taipei Flower Village. Ah Ding was in Taipei a decade ago visiting the Jianguo Holiday Flower Market with his family members. He began to notice the setbacks of the market, his family strolled around the market but had nowhere to rest; they became hungry but had nowhere to eat. This got Ah Ding thinking. there should be a market that is more hospitable to consumers, offering a more complete experience. So in 2003, careful planning and arrangement transformed a dusty field of gravel into a colorful botanical experience. In addition to selling flowers, herbs, and more, the village also includes a cafe, a restaurant, a playground, and bicycle rentals for the whole family to enjoy.
With the passing of each season the Taipei Flower village changes, highlighting the natural beauty of seasonal flowers. For example, every year in March and April the wisteria flower blooms, enveloping visitors in a romantic purple atmosphere. The park also follows holiday and festival schedules, decorating for tourist's enjoyment, such as a Spring Festival to celebrate Chinese New Year. In spite of the recent rainy weather, there are still many beautiful flowers to see in the Village, such as rhododendrons, bougainvilleas, lantana, and spring flower bulbs. Enjoy this secret spot with your whole family, spend a day cycling in this floral wonderland!
Venue: No. 18-2, Section 7, Yanping North Road, Shihlin District, Taipei (Adjacent to Chau Island) Free admission
Days Open: Tuesday to Thursday 09: 00-19: 00; Friday to Sunday 09: 00-21: 00; Chinese New Year normal business, business hours, please go to the official website.